factsheetsHow safe are refugee camps?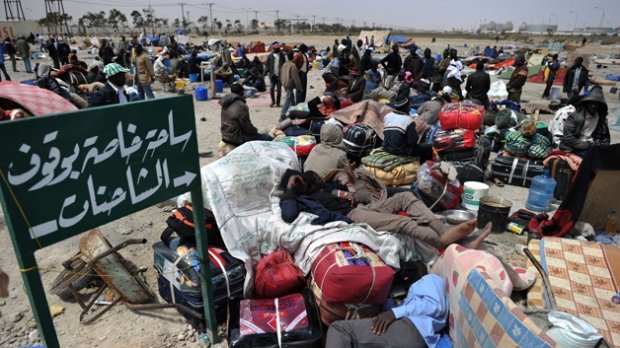 Some refugee camps hold hundreds of thousands of people, in conditions that are often extremely difficult.
The majority of the world's refugees live in countries bordering their own. Some refugee camps can hold hundreds of thousands of people, in conditions that are, at best, very difficult. For the six million refugees in what UNHCR classifies as "protracted situations", the average length of time spent in a refugee camp is 17 years.

Food and water supplies are unpredictable and refugees are often not allowed to leave or work outside the camp. Violence, especially rape, is common.

A growing number of refugees are unable to reach refugee camps or seek asylum in areas where there are no camps. UNHCR estimates that more than half of the world's refugees live in urban areas, while around a quarter live in camps.

MORE QUESTIONS...

These situations don't go on forever, so shouldn't refugees return home when conditions have improved?

The majority of the world's refugees do eventually return home. This is the most durable solution for the largest number of refugees, both in terms of what is feasible and what is desired by the refugees themselves. UNHCR participates in the voluntary repatriation of thousands of refugees each year, assisting people to return home once conditions in refugee-producing countries have improved and people are no longer at risk of persecution.

For many refugees, however, this is not possible. In the world's top five source countries for refugees (Afghanistan, Iraq, Somalia, the Democratic Republic of the Congo and Burma), conditions are characterised by protracted conflicts, ongoing insecurity and widespread violations of human rights.

There are often limited prospects for significant improvement in these conditions in the near future, seriously limiting opportunities for refugees to return home in safety. Additionally, certain ethnic or religious groups, for example the Hazaras in Afghanistan, have a long history of persecution in the home countries. A change in government or an end to general hostilities may not be enough to ensure their safety.

Past temporary protection policies have been proven to be extremely damaging to refugees, notably the Temporary Protection Visa (TPV) regime introduced by the Howard Government in 1999. Under the TPV regime, refugees who arrived without authorisation were only granted protection for three years, after which time they had to reapply for protection. Refugees on TPVs were unable to apply for family reunion, did not receive adequate settlement assistance (for example, they were ineligible for the free English language classes available to other humanitarian entrants) and were deprived of the stability and security of permanent protection.

The psychological damage caused by TPVs due to these factors has been well documented by medical experts. Furthermore, most TPV holders came from countries such as Afghanistan and Iraq where there was no prospect for safe return in the foreseeable future. Almost all TPV holders were eventually granted permanent protection when their claims were later reassessed.

There is also evidence to suggest that TPVs may have actually encouraged some asylum seekers to undertake risky journeys to Australia. Because TPV holders could not apply for family reunion, their family members facing persecution overseas – the majority of whom were women and children – were driven to undertake the same dangerous journey to Australia.

After TPVs were introduced, the proportion of women and children amongst asylum seekers arriving by boat more than tripled, from 12.8 per cent of boat arrivals in 1999, to 27.6 per cent in 2000, to 41.8 per cent in 2001. Among the 353 people killed when the unauthorised vessel SIEV X sank in 2001 were 142 women and 146 children – several of whom were attempting to reunite with husbands and fathers already in Australia on TPVs.

Sources:

Department of Immigration and Citizenship (DIAC) Settler Arrivals publication.

Boat arrivals figure is from DIAC's 2009-10 Annual Report. They aren't referred to as "boat arrivals" but rather as "irregular maritime arrivals" or IMAs. The relevant stat is on page 195.

Signatory status can be found through the Status of Treaties database.

The Refugee Council's Developing an Asia-Pacific Protection Framework report.

United Nations High Commissioner for Refugees (UNHCR) Statistical Year Books.

UNHCR's annual publication Asylum Levels and Trends in Industrialised Countries.