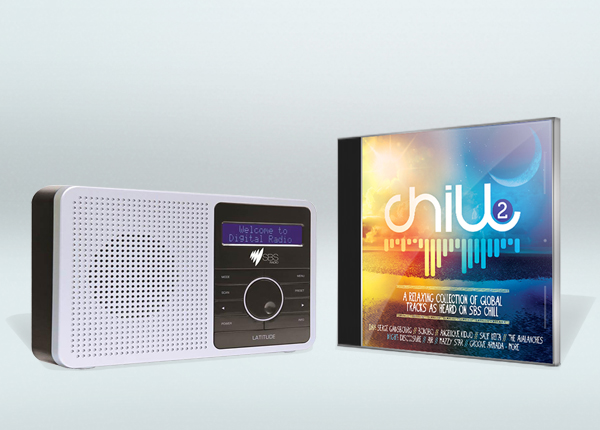 Win a Chill 2 CD prize pack!
Happy 5th Birthday SBS Chill! We're putting on our party hats and celebrating by giving our listeners the chance to win one of ten SBS Radio prize packs including the new release Chill 2 CD, a digital radio and more, valued at $87.95!
Each SBS Radio Prize Pack includes:
1 x Chill 2 CD
The smooth sounds of SBS Chill have been on the air for 5 years and to celebrate, we're releasing our new album, Chill 2 on CD and Digital formats. With a selection of global tracks carefully curated by SBS Chill's own Rob Miller & Christophe Mallet, you can relax and unwind with some of the best tunes on the planet.
Buy Now: CD and Digital CD RRP: $24.99
1 x SBS Radio branded digital radio
1 x SBS Radio notebook set – includes a wood and recycled paper notebook plus a wooden pen
1 x SBS Radio 4GB USB - in the shape of a radio
Competition opens: Monday 23 March 10:00am (AEDT).
Competition closes: Monday 6 April 0:55am (AEST).
Competition drawn: Tuesday 7 April 10:00am (AEST).
Enter your details below to go into the running. Winners will be notified by email.
Authorised under NSW Permit No. LTPM/14/01266 Class: Type C; ACT Permit No. TP14/04121. Promotions under these terms and conditions will commence on 30/11/2014 and finish on 23/08/2015.
Follow SBS Chill
Take time out to chill with us on Facebook
Read More
More music on SBS Radio
Listen 24/7 to SBS PopAsia
SBS PopAsia - non-stop hits streaming live online and on digital radio .
Read More

Relax and unwind with the smoothest tunes on the planet in this new selection from digital radio station, SBS Chill.

Music selected by author E L James, featuring 15 pieces found in the book trilogy.