The Hosts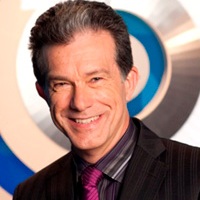 Richard Morecroft

Letters and Numbers is based on a French quiz show Des Chiffres et des Lettres, which has been going since the 1960s in France and the UK version has been on air for over 25 years. Do you think Letters and Numbers will also appeal to Australian audiences?
I think there's a universal appeal in the three key ingredients of the show - intelligence, challenge and accessibility. It's a chance to have fun using your brain; it's certainly challenging because you're always battling the clock. It's also accessible because the ingredients involved are just basic maths and the alphabet.

It's a friendly programme where you quickly learn how to play - and as a viewer at home, you can sit with a pen and paper and be just as much part of the action as the contestants in the studio. It's certainly different to many other quiz shows we've seen on Australian television and I hope it'll become as much a part of audiences nightly viewing as it has for others around the globe.

You took a break from broadcasting in 2002 for a major lifestyle shift and to pursue your interests in wildlife and photography. Why did you decide to come back to television?
The last eight or nine years have been some of the busiest I've experienced - and very different to the regularity of nightly TV news. From my base on the NSW South Coast, I've travelled around the country, hosting conferences, facilitating discussion panels and conducting onstage interviews for a whole range of industries and organisations. It's been fascinating and challenging work.

When I was asked a few months ago if I might be interested in hosting a new quiz show for SBS, I was intrigued. And when I saw some of the overseas versions of Letters and Numbers, I realised that this really was a programme with a difference. Certainly a very different kind of TV programme for me and a great opportunity to explore a new broadcasting role. It's very exciting and I'm loving it!

Tell us about a typical day on the set of Letters and Numbers.
When we're making an episode of Letters and Numbers there's a real buzz of excitement in the TV studio. It's a big team of people all working together to produce a programme that's relaxed, enjoyable and flows smoothly - but as they say about ducks, there's a lot of rapid paddling under the water that you don't get to see! It's a huge job for the producers and the director to co-ordinate everything that's going on ... not to mention keeping Lily, David and I under control in the studio!

When the show gets underway, everyone's very focused, because those 30-second time challenges are so demanding. However, there's still chance for a bit of banter and a chat with contestants before the titles roll. At the end of a show, I think we all take a deep breath because everyone's been concentrating so hard. Even the audience in the studio has been busy with pens and paper coming up with their own answers. When one show's finished, we're all looking forward to the next one!
Audience Announcement
SBS has made a decision to rest Letters and Numbers and develop other programs so we can continue to offer new, great content to our audiences. The last episode will be transmitted on June 27.

Following Tour de France, Countdown - the UK version of Letters and Numbers - will air at 5:45pm weekdays.

Lily Serna, one of the shows stars is working on a new show with SBS, Destination Flavour. SBS hopes the appetite for Letters and Numbers will be satisfied with the very popular UK series Countdown.

All of the puzzles from books 1 to 4 – that's over 600 pages of thoroughly addictive fun!

Want more letter games, number challenges and conundrums? Find them at the SBS Shop.