Pokhara MTB stage race - Stage 4
Pokhara MTB stage race - Stage 4
Latest Video
Recommended Video
Pokhara MTB stage race - Stage 4
Ross Bowles rides for Brain Cancer Biobanking Australia
Pokhara MTB stage race - Stage 3
Pokhara MTB stage race - Stage 2
Pokhara MTB stage race - Stage 1
Pokhara MTB stage race - arrival
UCI Mountain Bike WC: Round 5
Flashback: Cairns 1996 MTB World Championships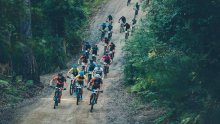 TDF 2017: Michael Matthews Post-Stage 21 interview
TDF 2017: Rest Day podcast videocast
TDF 2017: Sagan incident breakdown
With
dodgy-ness still marring the sport - its biggest star is in the veritable dog house over salbutamol levels - how do you solve a problem like Alejandro Valverde?...
Team
Sky has just named Chris Froome to its Ruta del Sol squad for mid February despite an ongoing investigation into his adverse finding. Sure, it might not be...
Signs
that Esteban Chaves is back to his 2016 best are there but the road to the Giro is long and winding, writes Anthony Tan.
The
Cadel Evans Great Ocean Road Race showed that for a race to be deemed a Classic, it doesn't have to be old, writes Anthony Tan.
For
a 20th anniversary edition this year's Santos Tour Down Under had just about everything a cycling aficionado could wish for, writes Anthony Tan.