We're honestly not sure what to do here at Cycling Central after Evans retires. The Australian has been such a huge part of the Oz cycling landscape these last 20 years that when he leaves it would be tempting to pack it in, and call time on the whole show.

There are of course, shoots of green coming through to fill the Evans void, Rohan Dennis, who won the Tour Down Under last week, Michael Matthews, who's started to hit his straps these last few years, and Richie Porte, who could well go the Giro d'Italia this year and claim a second Grand Tour for Australia. But even as the Australian cycling narrative rolls on, and is reinvented, Evans, that lone suffering face on a mountainside somewhere in France, won't be forgotten, nor ever, fully replaced.

In honour of the Australian, below we reflect on 10 key moments from his decorated career. (All images AAP unless otherwise noted)

1. A Mountain Biking star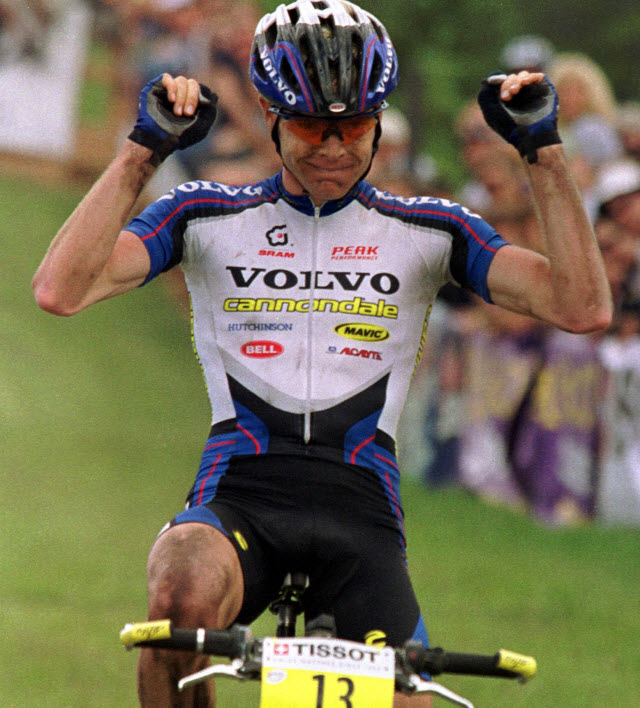 Before Evans had properly entered the Australian conscience as a Tour contender he was a prodigy on a mountain bike. In 1998 and 1999, Evans collected consecutive wins in the UCI Mountain Bike World Cup. With a thoroughbred physiology and a background stretching back to his early teens on the dirt, Evans success was no fluke, and heading into the Sydney Olympic Games he was in the frame for a medal. Pictured above Evans rides to victory in Canmore Round of the World Cup, in July, 2000, just three months out from the Games.

2. Olympic disappointment, Sydney 2000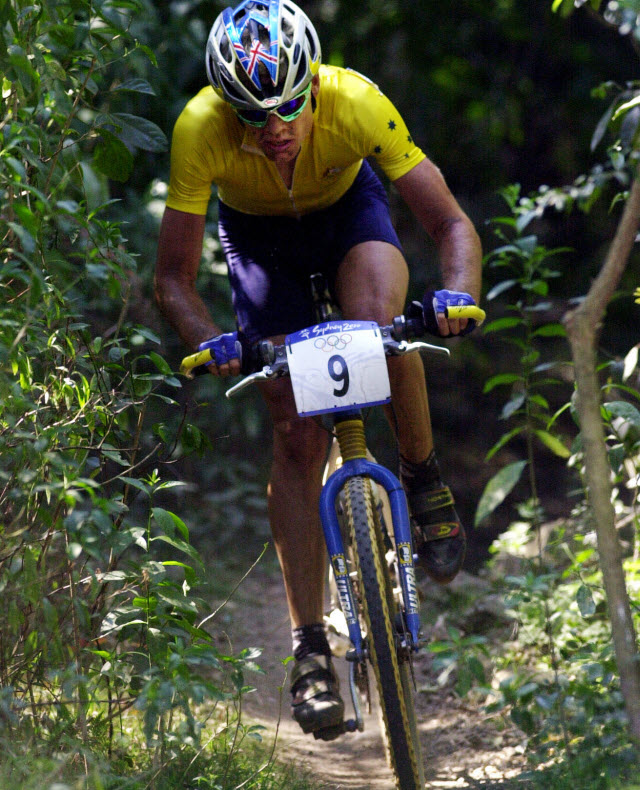 Evans had ridden in Atlanta, aged 19, so he was no stranger to the Olympics when he lined up on the Fairfield course in Sydney four years later. The home favourite rode with the leaders, Miguel Martinez and Filip Meirhaege in the early laps of the hilly cross-country course, but the Frenchman, Martinez pushed such a relentless pace that Evans eventually succumbed. He faded in the final laps to finish seventh. The event would be a swansong of sorts for Evans, who put increasing focus on the road thereafter, hinting as much to the Herald Sun after his Sydney disappointment. "Maybe I'll try a three-week tour like the Tour de France or something that more suits my style," he said to the newspaper after the event. He went full-time on the road in 2001.

3. A sign of things to come, Giro d'Italia 2002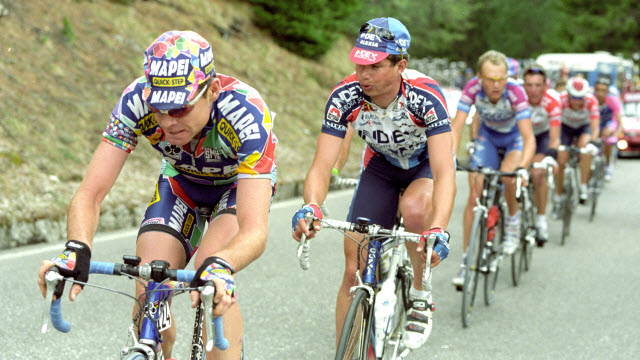 Might Australia have had a Grand Tour winner a decade ahead of Evans's eventual Tour de France win in 2011? In 2002, Evans certainly came very close. Riding for the Mapei-Quickstep team, and taking part in his first Grand Tour the Australian flew under the radar but found himself within touching distance of the maglia rosa after a strong time trial on Stage 14 in Numana. He moved into pink on Stage 16 after a characteristically fighting performance, "I can't express how happy I am," said an emotional Evans, coming to terms with the feat. "This kind of thing has always been a dream for me." The high was short-lived however, and on the following day to Folgaria, Evans on the wheel of team-mate Andrea Noe, lapsed, exhausted, and lost a huge chunk of time on an epic day final day in the mountains. The performance did however foreshadow his Grand Tour potential, but it would be a quite a while indeed until he got his next shot.

4. Denied by Dopers? Tour de France 2005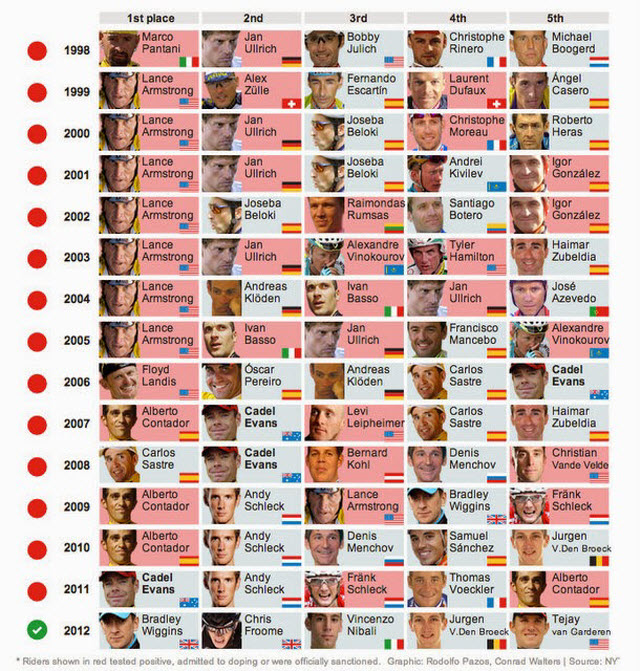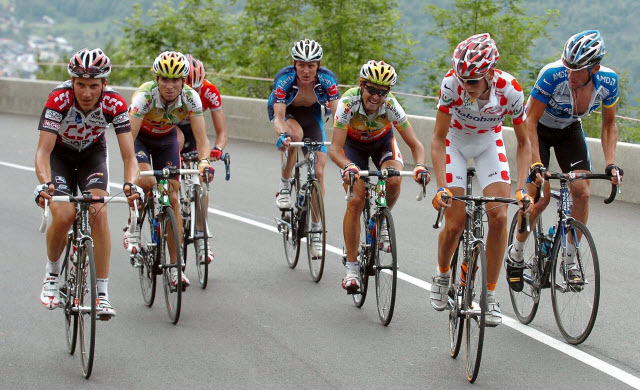 Lance Armstrong's name is synonymous with doping, but Armstrong was just one of many of Evans rivals who have over the years been linked to, suspended, or since admitted to doping at some time in their careers. In the 2002 Giro d'Italia, consider, Evans faced Paolo Salvodelli, Stefano Garzelli, Sergei Honchar, Pietro Caucchioli. In the 2005 Tour de France, every rider ahead of him; Armstrong, Ivan Basso, Jan Ullrich, Francesco Mancebo, Levi Leipheimer, Michael Rasmussen, and Alexandre Vinokourov have admitted to doping. As doping became less prevalent Evans results improved, and toward the end of his career Evans was consistently among the best. The obvious question is how many Grand Tours might Evans had won in a cleaner peloton? How many was he denied? Image from the 2005 Tour de France shows Evans (obscured from shot) against some dopey rivals.

5. A race of seconds, Tour agony in 2008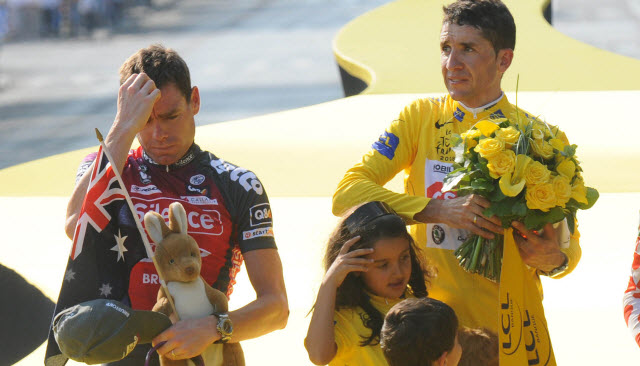 What's shaped Evans career as much as his success, has been his near misses. In fact, Cycling Central would go so far as to say that Evans's gutting defeats in 2007, and 2008, won him more fans than his final victory in 2011. That may be a bold claim, but 2008, particularly, defined Evans near misses. After coming close too, in 2007, the absence of Alberto Contador, the suspension of Michael Rasmussen, and the lack of other obvious challengers made Evans a de facto pre-race favourite. Within sight of yellow jersey, Evans had only to keep Carlos Sastre, Andy Schleck, and Frank Schleck on a leash, then three of the world's best climbers, on Alpe d'Huez. Only. It was pretty devastating. "I was three against one in the whole Tour. Then like I said, when you have the 10 best bike riders on your wheel and you have a two minute gap to close on one of the best climbers in the world, it is not an easy situation to be in," Evans told the SMH after the stage. He'd go on to see the Tour title slip from his grasp by less than a minute for the second straight year.

6. Spanish conspiracy? Vuelta a Espana 2009

As if that blow hadn't been enough, Evans 2009 Vuelta a Espana saw a slow wheel change cost him more than a minute to his Spanish rivals. Alejandro Valverde, a Spaniard, won the race by 1min 32sec but the dynamic had been irreversibly altered by Evans wheel woes. "I punctured and two neutral mechanics couldn't change the wheel. They couldn't get the wheel in. The media and the photographers blocked the road, and the team car couldn't come through, so I was stranded. The job of neutral assistance is to offer assistance. It probably cost me the win of the Vuelta."

7. Rainbow Road, UCI Road World Championship Italy 2009

When his Grand Tour career was stalling, Evans reminded his critics of what he was capable with a thrilling solo win in the Mendrisio World Championship Road Race. We'll just let this video do the talking.




8. Classics re-invention? Giro d'Italia 2010

While Evans did ride the Giro d'Italia aiming for the maglia rosa with new team BMC, his success on targeted stages, and in the Ardennes - he won Fleche Wallone for the first time in his career - gave credence to Evans transforming into a bona fide one-day rider in the final part of his career. Of all his wins, Evans's gritty, mud-soaked win in Montalcino, that same year at the Giro, rates still as one of Evans most memorable victories and typified Evans transformation as a man for the classics.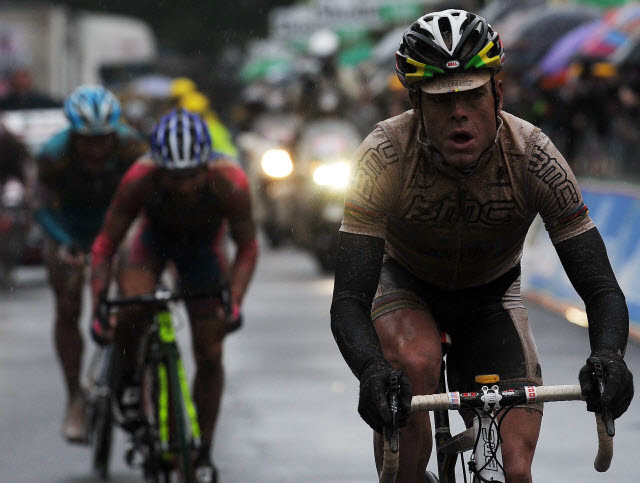 9. A long time coming, Tour de France 2011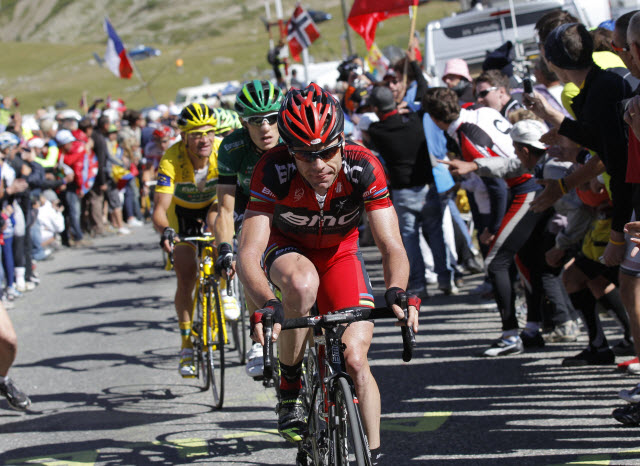 Evans was by no means the favourite for the 2011 Tour, Bradley Wiggins was. But after the Team Sky man crashed, and broke his collarbone on a chaotic stage to Chatearoux, Evans was thrust into a position as the lead candidate for yellow. With a BMC team built to protect him on the rolling hills of the first week, Evans was ever-present at the front of the race, but was still left largely to his own devices in the mountains. That nearly cost the Australian everything, as it had in 2008, on the stage to the Col du Galibier when Andy Schleck raced clear solo. Schleck broke the race to pieces as he charged to the stage win, leaving only Evans to pull himself and a reduced main field back. Although Evans would take yellow in the race's penultimate time trial, it was on the Galibier that the Australian won the Tour. Pictured, Evans towing Thomas Voeckler and Pierre Rolland up the Col du Galibier in 2011.

10. The endgame, and walking away, 2013, 2014

It would be a disservice to say that Evans's achievements post-2011 pale in comparison to his Tour win, but the afterglow of yellow does brush of much that period. Evans rode the Tour twice more, in 2012 as defending champion, and 2013 where he recorded his lowliest finish 39th. Part of this slow decline can be explained by the ascendancy of a throng of superior rivals, Bradley Wiggins, Chris Froome, Nairo Quintana and a resurgent Alberto Contador, and a changing of the guard at BMC, where Tejay van Garderen was pressing to be recognised at the team's number one. But part of it too, was that Evans was no longer the athlete he had been. At 36, in 2013 he still rode to third overall at the Giro d'Italia, and last year, at 37 even wore the maglia rosa, 12 years after he first did in 2002, but his ability to ride at the front of races with the best in the world consistently has slowly, and understandably, deserted him. An impressive last hurrah at the Santos Tour Down Under, where he was third overall, showed the 37 year old is still a very handy bike rider. He closes his career as Australia's most decorated cyclist and leaves a legacy that few can even hope to emulate.