To celebrate Jungkook turning 21 (international age), here are 21 reasons why he is BTS' Golden Maknae (and why you should stan him)!
1.  He can sing
Not just in Korean either, but also in English, Japanese, Chinese and even Vietnamese. He's an excellent vocalist that still sounds amazing even without musical accompaniment.  
2. He can dance
Not only is he one of the top three dancers in BTS and part of the dance line with J-Hope and Jimin, he's also pretty good at girl group dances.
3. He can rap
He helped cover Rap Monster's parts when the leader was unfortunately injured during some of their promotions.
4. He shoots amazing films
His Golden Closet Films collection has given us some beautiful shots of BTS behind the scenes.
5. He's also really good at editing films
Like how does he find the time to become an expert at absolutely everything?
6. He can beatbox
7. He can compose songs and write lyrics.
He's often contributed to BTS' lyrics and compositions, most recently with his self-produced song "Magic Shop".
8. Like the BTS song of the same name, he can run super fast
Like a Speedy Gonzales. Look at him leaving his competition in the dust.
9. He can draw really well.
10. He's good at cleaning
Very thorough. Ideal husband material.
11. He's a great lip-syncer
This can be seen in his hilarious dubsmash videos and Bangtan Bombs!
12. He's good at wrestling, earning him the nickname of "Jeon Cena"
Being the strongest member, ie. "muscle pig" of BTS, he's often tasked with a lot of the physical lifting in BTS choreographies. eg. He carries Jimin in 'No More Dream' and Suga in 'War of Hormone'. But don't get on his bad side! He likes to throw his members around (especially V) when he gets too annoyed with them.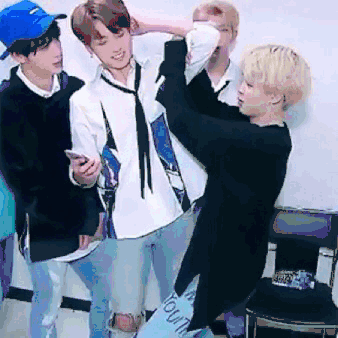 13. He's good at aegyo
Look at his adorable 'shy shy shy.' Such an cute bunny.
14. He's great at imitations
We can totally vouch for that when he did his Iron Man and Suga impressions right here at SBS PopAsia HQ!
15. He can sleep anywhere
Literally. Living room couch, floor under the kitchen table, on top of his members...
16. He's great at photography
He took some amazing shots whilst travelling with BTS in Europe. 
17. Speaking of travel, he is the 'international playboy' of the group
He would definitely get all the ladies with his charm! Poor Jimin can't resist him.  I feel you, Jimin.
18. He can do taekwondo
He also does a bit of tumbling and break-dancing in random videos.
19. He's great at fishing
He doesn't even need a fishing rod and can pick up fish straight from the sea bare-handed. What even. Is he human?
20. He's a pretty good actor and can cry on cue
His great facial expressions when acting in the BTS MVs did make me tear up a little.
21. He's great at playing darts 
Bullseye! Jungkook can throw darts with incredible accuracy. When member Jin tells him random numbers to hit on a dartboard, Jungkook hits them all correctly, much to Jin's amazement.  
Plus, he's a bit extra of course and can do a spiderman backflip before throwing the dart. 
Our little BTS baby is growing up! Happy Birthday to the Golden Maknae!!
---
Hear us on SBS PopAsia Digital Radio
Listen in 24/7 on Digital Radio, by downloading our free mobile app or by streaming live here on our website.
Download the app here: