BTS have given ARMY so many meme-worthy moments with Run BTS!  that to be honest we could be here all day counting down the unforgettable and very GIF-able times BTS have left us in tears of laughter.
Each episode of Run BTS! is worth viewing, but we've attempted to narrow it down to the 15 we consider essential viewing for any BTS fan.
1. Back-to-school
Yoongi is the most terrifying girl in school as the boys perform a classroom skit that includes Hobi crying over poetry and Jin throwing down some classic dad jokes.
2. The police station
There's so much to love here: Suga as the barely present chief; Jimin as a criminal who escapes through prison bars; J-Hope's unwavering enthusiasm towards life. And seriously, Jin's dad jokes are thriving.
3. The arcade
Some key takes from this episode include RM's ridiculous arm-span in air hockey, Jin being victim to a poorly played puck and Jimin literally shrinking into his hoodie as he's totally bested.
4. Cooking challenge
What we learnt here is that V is a creative genius so long as he's not in charge of actual cooking, and JK shouldn't be trusted with potatoes.
5. Dog training
Who could've been prepared for the soft of BTS x puppies? Also how is it possible for seven men to choose dogs that perfectly match their personalities? Apologies to Jin and Adam... at least they're both handsome?
6. Fashion show
Fierce looks served, many bootys shaken, and footage of Suga singing "Baby Boy" to Jimin now exists. This was an episode that kept giving.
7. The tomato song
We are haunted by this song. HAUNTED. But what we suffered in catchy nursery rhymes was made up for with the vision of Jungkook going to sleep, falling off his beanbag, deciding the floor was fine for him, then being the slowest angel of a bunny to wake up.
8. Jump and pose
How are two grown men so bad at taking timed photos? 
9. Zombies
From the deception that led them to board that bus, through to each member's unique reaction to being stuck in a zombie game, this is peak Bangtan. You've got Hobi and Jimin screeching at every turn, while RM, V and JK calmly solve the puzzle, and when Jin and Suga aren't being scared by cameramen, they're infiltrating the zombie corps in full costume.
10. Clay-making
Between dancing to the sound of clay being slapped and watching in horror as V's masterful creations fall to the floor, every moment is a meme in the making.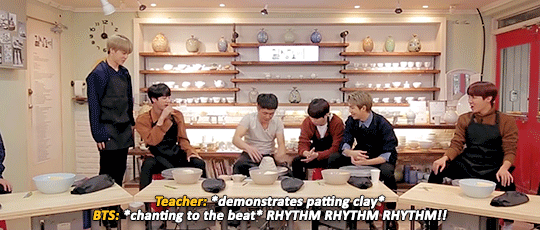 11. Karaoke
Powerful. Moving. Ear shattering. Jin's vocals alone have both the entire group and any viewer on the floor rolling with laughter.
12. Bowling
We never want to go up against Jungkook in any competitive sports. Even the boys are terrified of him, and that's half the fun in this ep that's less about bowling and more about cracking jokes from the seats.
13. The picnic trip
Watching millionaires play games to win snacks is really something. As are butt-slapping games, Jin and Jimin imitating birds, and the edits featuring The Truth Untold while the boys slo-mo fail at badminton.
14. The shopping centre scavenger hunt
Want to watch seven men blatantly lie to each other with straight faces and then be shocked by one another's betrayal despite being bandmates for 6+ years? This is the episode for you - the finale alone is perfect Bangtan chaos.
15. The water park
This was actually spread across three episodes because you can't let quality slip by. They should just rename this episode as: Jungkook flexes his strength in and out of water.
So what do you think? Which ep ranks as your all-time fave?
---
Hear us on SBS PopAsia Digital Radio
Listen in 24/7 on Digital Radio, by downloading our free mobile app or by streaming live here on our website.
Download the app here:

Who were the most popular K-pop artists on VLive in 2017?
Some were expected and some were pleasant surprises!