We've entered 2018, which has already delivered some amazing tracks. But I though it'd be fun if we go back a decade and see what eight of the best tracks from 2008 were!
Time machine set. Let's go!
1. Rain: Rainism
In 2008 Rain released his sixth album RAINISM, which was his first after leaving JYP Entertainment. One of the singles was called "Rainism," which is regarded as one of Rain's all-time best songs to this day. The track has a unique breakdown where Rain dances with a cane and the popular song has been covered by multiple artists such as BTS, GOT7 and Kim Hyun-joong.
2. TVXQ: Mirotic
Ah the good old days when TVXQ were still a five member group. "Mirotic" was so big at the time, TVXQ received nine number one wins on music programs, M! Countdown, Music Bank and The Music Trend. The song is considered to be one of the best k-pop songs of all-time.
3. Lee Hyori: U-Go-Girl
New K-pop fans might know Lee Hyori from her show Hyori's Home Stay with her husband and IU. But back in the day Hyori was essentially Korea's answer to Beyoncé. In her prime she released single "U-Go-Girl," a colourful, catchy track that topped the charts in 2008.
4. Jewelry: One More Time
Jewelry debuted in 2001 but it wasn't until they released their track "One More Time" that they would experience immense success. The track stayed at number one for seven weeks in a row on KBS's Music Bank and MBC's Music Core. Who could forget that iconic index finger dance move in the chorus, so legendary!
5. Wonder Girls: Nobody
The Wonder Girls released their most popular single as group, in 20018, with "Nobody" selling over 4.6 million records. The song was written and produced by JYP, and recorded in four different languages including Korean, English, Chinese, and Japanese. The live version of the song was the first K-pop video ever to hit 50 million views back in 2011, which shows just how popular the Wonder Girls were.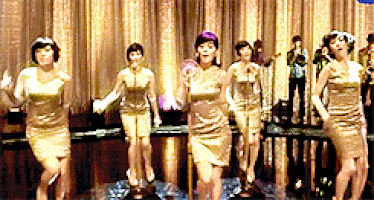 6. BIGBANG: Day by Day
"Day by Day" also known as "Haru Haru" was written and produced by BIGBANG leader G-Dragon. The song, even with all of BIGBANG's hits, still remains their number one selling single of all-time with over 5.4 million sales. The track has a unique hip-hop ballad feel, something that I don't think I've heard other groups attempt since. The music video tells a heart-wrenching story, which was well-received and even got parodied by Infinite Challenge members for their year-end festival.
7. SHINee: Replay
SHINee made their debut a decade ago with an instant hit, "Replay," which is regarded by many to be one of the best K-pop debut songs of all-time. The track talks about having a crush on an older girl, which worked wonders on the adult female demographic. "Replay" is a silky smooth R&B song  that shows off SHINee's vocals and the classic music video also stars f(x)'s Victoria as the female lead. 
8. Taeyeon: If
When Taeyeon sang "If" for drama Hong Gil Dong, the song became just as popular as the actual drama. It's still one of the most loved OST singles, showing off Taeyeon's amazing vocal ability and every time I hear it I get some pain in my chest, it's that powerful and touching.
---
Hear us on SBS PopAsia Digital Radio
Listen in 24/7 on Digital Radio, by downloading our free mobile app or by streaming live here on our website.
Download the app here: