We all love eccentric, wacky and sah extra idols. So, here's nine k-pop stars with 4D personalities for you!
1. Jackson (GOT7)
If you haven't heard of GOT7's Jackson by now you've probs been living in a cave for the past three years. Due to his hilarious and unique charms Jackson has starred in just about every variety show in South Korea and China. Jackson never fails to bring laughter wherever he goes, saying unpredictable things that will always make you crack up.
2. Jisoo (BLACKPINK)
BLACKPINK debuted over a year ago, so we know the members' personalities pretty well. Except for Jisoo. She's shown off her 4D style on multiple occasions but the most memorable was when she was trying to balance a bottle on her shoulder during an award show and it actually got televised, to Jisoo's shock.
3. V (BTS)
V has such a unique and charming personality that any K-pop fan falls in love with him. He's always having a good time with members and by himself. His most notable moments are when he playfully wobbled a fan's hair during a fan meet and that time he wore high heels like a boss. If V's on your monitor, it's bound to be entertaining.
4. Lay (EXO)
EXO's Lay is unique, in a beautifully adorable way. While he's a fantastic dancer and singer on stage, Lay gives one of-a-kind show appearances. He's often spacing out, forgetting when to talk and delivering incredible moments, like when he tried to heal Jeong Hyeong-don's hernia on Weekly Idol.
5. Heechul (Super Junior)
Ah, where do I begin with Heechul? He stars on Knowing Brothers, talking about idol taboo topics such as smoking and dating, often voicing his unfiltered comments causing hilarious moments. He's also a huge fan of the movie Frozen, so much so that he was caught at the airport with a pink Frozen bag, with Elsa and Anna on it. Yeah, he pulled it off.
6. T.O.P (BIGBANG)
BIGBANG's nickname for T.O.P is 'Bingu T.O.P' because he's so unpredictable. One moment he'll be serious and the next he's impersonating Michael Jackson. Fans have embraced T.O.P's true personality. He usually has a solo stage where he freestyle dances at concerts. My favourite 'Bingu T.O.P' moment was when BIGBANG were doing a radio show and T.O.P broke his headphones; they shot off his head. Cracks me up every time!
7. Onew (SHINee)
Onew, as SHAWOLs (SHINee fans) know, has a case of 'Onew condition.' It's when he finds himself in hilarious and awkward situations that he created all on his own. For example Onew has fallen over so much over his career, there is enough footage to make a montage and who could forget that time he had a conversation with himself on Twitter back in the day, only Onew would do it.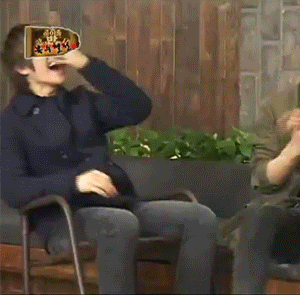 8. Sungjae (BTOB)
The maknae of BTOB has proven endless times that he's happy to just be himself. He's broken a watermelon with his head, posted funny selfies on Twitter and the list goes on. Sungjae is one of the most relatable and easy going idols in the industry.
9. Jo Kwon (2AM)
Jo Kwon used to perform the most extra female parody dances on variety shows, which always left the audience in tears. I remember one time he danced to Girls' Generation's "Gee" with Taeyeon in the background, and he almost hit her in the face because he was so immersed in the dance!
---
Hear us on SBS PopAsia Digital Radio
Listen in 24/7 on Digital Radio, by downloading our free mobile app or by streaming live here on our website.
Download the app here:

FOR MORE:
7 reasons why MONSTA X are the most kind-hearted (and extra) idols today
7 extra reasons to love MONSTA X (not that we needed anymore!)