Business magazine Forbes has announced its annual Top 40 Korea Power Celebrity list, and none other than BTS have ranked number one!
They also grace the cover of the magazine, looking every bit the power celeb in their suits.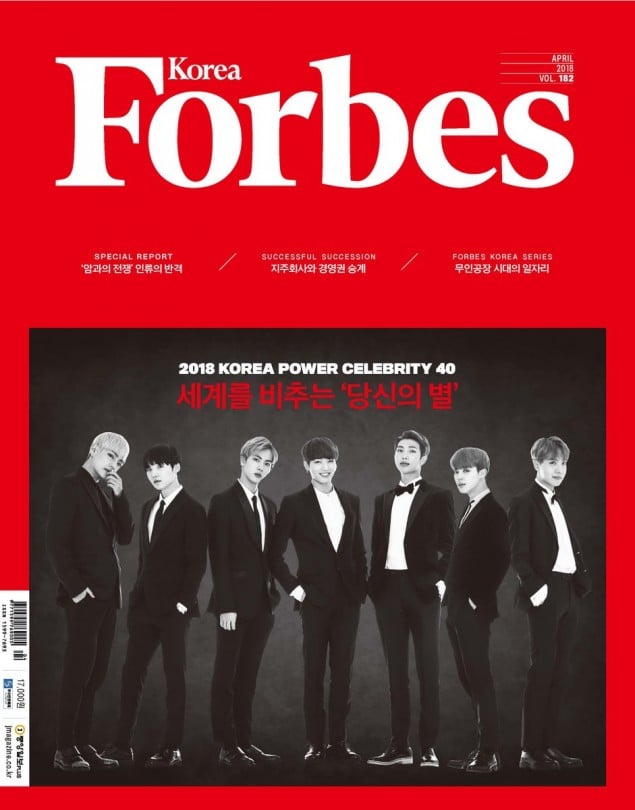 Several other K-pop idol groups featured in the list, with Wanna One, TWICE, EXO and IU all in the top five. Have a look at the full list below.
1. BTS (group)
2. Wanna One (group)
3. TWICE (group)
4. EXO (group)
5. IU (singer)
6. Song Hye Kyo (actor)
7. Song Joong Ki (actor)
8. Park Bo Gum (actor)
9. Kim Yuna (athlete)
10. Ryu Hyun Jin (athlete)
11. Red Velvet (group)
12. Suzy (actor/singer)
13. Son Heung Min (athlete)
14. Chung Hyun (athlete)
15. AOA (singer)
16. Taeyeon (singer)
17. Jung Woo Sung (actor)
18. Jun Hyun Moo (entertainer)
19. Kim Hee Sun (actor)
20. Lee Hyori (singer)
21. G-Dragon (singer)
22. Park Seo Joon (actor)
23. Jung Yoo Mi (actor)
24. Gong Yoo (actor)
25. Park Sung Hyun (athlete)
26. Honey Lee (actor)
27. Kang Ho Dong (entertainer)
28. Choo Shin Soo (athlete)
29. Sunmi (singer)
30. YoonA (actor/singer)
31. Oh Seung Hwan (athlete)
32. Shin Dong Yup (entertainer)
33. Lee Seung Gi (singer/actor)
34. Ha Jung Woo (actor)
35. BoA (singer)
36. Ryu Joon Yeol (actor)
37. Kang So Ra (actor)
38. Baek Jong Won (entertainer/business)
39. Bolbbalgan4 (singer)
40. Hong Jin Yung (singer)
---
Hear us on SBS PopAsia Digital Radio
Listen in 24/7 on Digital Radio, by downloading our free mobile app or by streaming live here on our website.
Download the app here: