While K-pop achievements like all-kills are often marked by streaming or download numbers, physical sales still make up a large part of an agency's revenue.
Pann Nate looked at physical sales from 2017 to gauge which agency leads when it comes to actual albums being sold in shops and online. It turns out SM Entertainment is at the top with a 26.01% share of sales being from their artists, but following closely behind is Big Hit Entertainment on 18.58%, who only have two active groups - BTS and Homme - to their name.
JYP was next with 14.07%, and the top 10 also included YMC (Wanna One, Ailee), Pledis (SEVENTEEN, PRISTIN, NUEST), YG (BIGBANG, BLACKPINK, WINNER), Starship (MONSTA  X, Cosmic  Girls) and more.
Check out the numbers with cd sales figures below.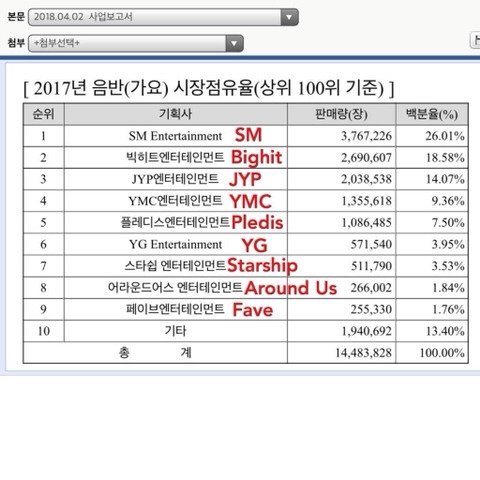 ---
Hear us on SBS PopAsia Digital Radio
Listen in 24/7 on Digital Radio, by downloading our free mobile app or by streaming live here on our website.
Download the app here: