NCT have easily become one of the most talked about K-pop debuts of recent years but people are still confused by their concept. How many members are there? Why so many units? 
We get it and we're here for you. Because everyone should stan NCT.
The basics
NCT are a K-pop group created by SM Entertainment. NCT stands for Neo Culture Technology, and the idea is that they're a group of infinite members who are constantly shifting into different sub-units in different cities around the world. Currently, NCT is made up of 21 members.
Who are the members?
Look, we'll just have to rattle these names off and get into the details a bit later. As it stands, NCT is made up of Taeil, Johnny, Taeyong, Yuta, Kun, Doyoung, Ten, Jaehyun, Winwin, Jungwoo, Lucas, Mark, Renjun, Jeno, Haechan, Jaemin, Chenle, Jisung, Xiao Jun, Yang Yang and Hendery.
(L-R: Xiao Jun; Yang Yang; Ten; Lucas; WinWin; Kun; Hendery)
Aaaand breathe.
Units: NCT U, NCT 127, NCT Dream, NCT 2018, WayV
This is where people get confused. If there's one group called NCT, why are there so many other, smaller groups also called NCT? There's legit reasons.
NCT U
NCT U is a rotational group and members change depending on the concept. They debuted with "The 7th Sense" and "Without You" in April 2016. On debut NCT U was Taeil, Jaehyun, Taeyong, Mark, Ten and Doyoung. 
The unit made a comeback in February 2018 with "BOSS" including members Taeyong, Jaehyun, Doyoung, Mark, WinWin and newbies Lucas and Jungwoo. NCT U members Taeyong and Ten also released "Baby Don't Stop".
NCT 127
NCT 127 are representatives of Seoul and the 127 in their name represents the longitudinal coordinate of the city. They had a set line-up of nine members: Johnny, Taeyong, Jaehyun, Doyoung, Taeil, Yuta, Winwin, Mark and Haechan. They've since added Jungwoo to the lineup, making it 10 members. But while WinWin is in WayV (we're getting to them), they're promoting as 9 members.
They debuted with "Fire Truck" in July 2016 with only 7 members, but made a comeback in December 2017 with the nine-member lineup on "Limitless". They released their first full-length album in October 2018 with Regular-Irregular. They've since reissued the album as Regulate with single "Simon Says", and released the EP We Are Superhuman in May 2019. 
They're also the most well-travelled NCT unit, with their NEO CITY 2019 tour hitting South Korea, Japan, the US, Canada, Mexico, Thailand and Russia.
NCT Dream
This one is easy: it's a unit based on age. All members of NCT Dream are under 20, and once they hit that age they graduate into a different NCT unit. The group originally consisted of Mark, Haechan, Renjun, Jeno, Jaemin, Chenle and Jisung.
Yes you read that correctly, Mark was part of all the units. Technically he's graduated from NCT Dream now with his final song being "We Go Up". 
NCT 2018
This is the project name for NCT as it existed in 2018. The group included 18 members and they released their first album, NCT 2018 Empathy, which featured songs from each unit, as well as the group song "Black on Black".
WayV
NCT's Chinese unit, this group is focused on releasing Mandarin-language songs. The members are Lucas, Winwin, Kun, Ten, Hendery, Xiao Jun and Yang Yang. The group debuted under SM Entertainment's China-exclusive label, Label V, on January 17, 2019 with a Chinese version of NCT 127's "Regular".
In May 2019, they released their first mini-album Take Off.
Group roles
Due to NCT being a constantly shifting group, the traditional K-pop roles of leader, maknae, vocals and rap line are ever-changing and not necessarily official. 
Having said that, it's a generally accepted fact in the fandom that NCT's leader is Taeyong, who's part of the rap line along with Mark, Lucas and Jaemin.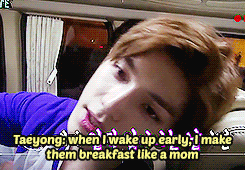 While almost all members are part of the vocal line in some way, it's also known that Ten is NCT's main dancer, and others in the dance line include Jisung, Winwin and Jeno.
Having said that, NCT have gotten very popular internationally, and during their overseas promotions it's Mark and Johnny who've become unofficial leaders of the group, as the strongest English speakers (Mark grew up in Canada, while Johnny was raised in Chicago, USA).
What to watch to get to know them better
So maybe you've watched NCT's MVs and you're into their whole vibe but it's hard to figure out personalities and choose that all important bias. 
NCT have been on lots of variety shows already, but here's a couple of easy ones you should check out.
NCT Life
Get an insight into their daily lives and promotions. Witness the birth of some A+ memes too.
Weekly Idol
The perfect way to get intro'd to a new group. The units have been on as well as NCT 2018. Unlike the hosts, we bet you'll be on top of NCT's concept by this point!
Hot & Young Seoul Trip
This is partly focused on showcasing Seoul for tourism purposes, partly just a hilarious insight into NCT's dynamic. There's a lot of eating, games and fun moments to get to know the members better!
NCT Daily
NCT launched an official channel where members upload vlogs reflecting their unique personalities. There's Johnny's Communication Center series, Jeno doing ASMR, the NCT Dream boys with their arts & crafts, plus a lot of NEO CITY tour footage.
So there it is, a beginner's guide to NCT. What's the verdict, are you a fan?
---
Hear us on SBS PopAsia Digital Radio
Listen in 24/7 on Digital Radio, by downloading our free mobile app or by streaming live here on our website.
Download the app here: