One of our fave Korean actors, Lee Jong Suk, is enlisting in the military as of March 8, 2019. It's going to be a while before we see him in a new K-drama or film again, but that doesn't mean we can't watch a WHOLE bunch of shows he's starred in in the meantime. 
Here's a bunch of K-dramas starring Lee Jong Suk that are available to watch in Australia, ready to bring you comfort while he's away. So dry your eyes and put these on your watch list!
1. Romance Is A Bonus Book
Lee Jong Suk as a senior book editor, wearing turtlenecks and pining after his best friend - what's not to love! The older woman-younger man romance will lure you in and his charming character will keep you entertained.
2. Pinocchio
This has a powerhouse lead combo of Lee Jong Suk and Park Shin Hye as two reporters with different reasons for being in the profession: she wants to follow in her mother's footsteps while he wants to be an honest journalist. Add to that fated childhood trauma, and Park Shin Hye's character bursting into hiccups whenever she lies, and it's quality entertainment!
3. W: Two Worlds Apart
This fantasy drama is going to have you glued to your screen - necessary when you're trying not to think about Lee Jong Suk's absence. Han Hyo Joo is the daughter of a webtoon author who gets pulled into the fictional world he created, and ends up entangled in a murder mystery with the story's hero.
4. Secret Garden
This is a stone cold classic so even though Lee Jong Suk's role isn't massive, it's still a must-watch. The main story is about a man and woman who magically switch bodies, but Jong Suk plays a young genius musician who gets recruited by one of the support characters, and eventually reveals he's gay. 
5. Doctor Stranger
If medical dramas starring impossibly attractive doctors is your thing, then say hi to this show. Lee Jong Suk plays a doctor who flees North Korea to return to his first home of South Korea and becomes a top surgeon, vowing to reunite with the woman he left behind. 
6. I Hear Your Voice
Another noona drama! This time Lee Jong Suk plays a high school student who can read people's minds by looking into their eyes, a skill he acquired after witnessing his father's murder as a child. When he's reunited as an adult with the woman who testified as a witness at the trial, the pair become an unlikely team fighting for justice. Get ready for some emotional moments with this one.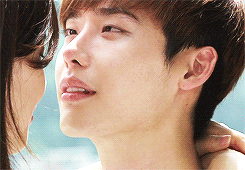 7. Hymn of Death
How do you feel about tragic romances? Probably not great, but this one is perfectly bittersweet. Based on true events that occurred during the Japanese colonial period, Lee Jong Suk plays married genius playwright Kim Woo Jin, who falls for Joseon's first soprano Yun Sim Deok, played by Shin Hye Sun. 
Hopefully these dramas will get you through some time of missing Lee Jong Suk until he's back from his military service.
---
Hear us on SBS PopAsia Digital Radio
Listen in 24/7 on Digital Radio, by downloading our free mobile app or by streaming live here on our website.
Download the app here: