EXO's Chen has confirmed that he is planning to get married.
Chen, real name Kim Jongdae, posted a handwritten letter to EXO's fancafe, in which he shared the news with fans. In it he wrote that he has "a girlfriend who I want to be with for the rest of my life". He mentioned his worry in wanting to share the news with fans without surprising them too much, and that he had spoken with SM Entertainment and his fellow EXO members before choosing to share the news publicly.
He also thanked the EXO members for their love, as well as the fans for their long-standing love and support.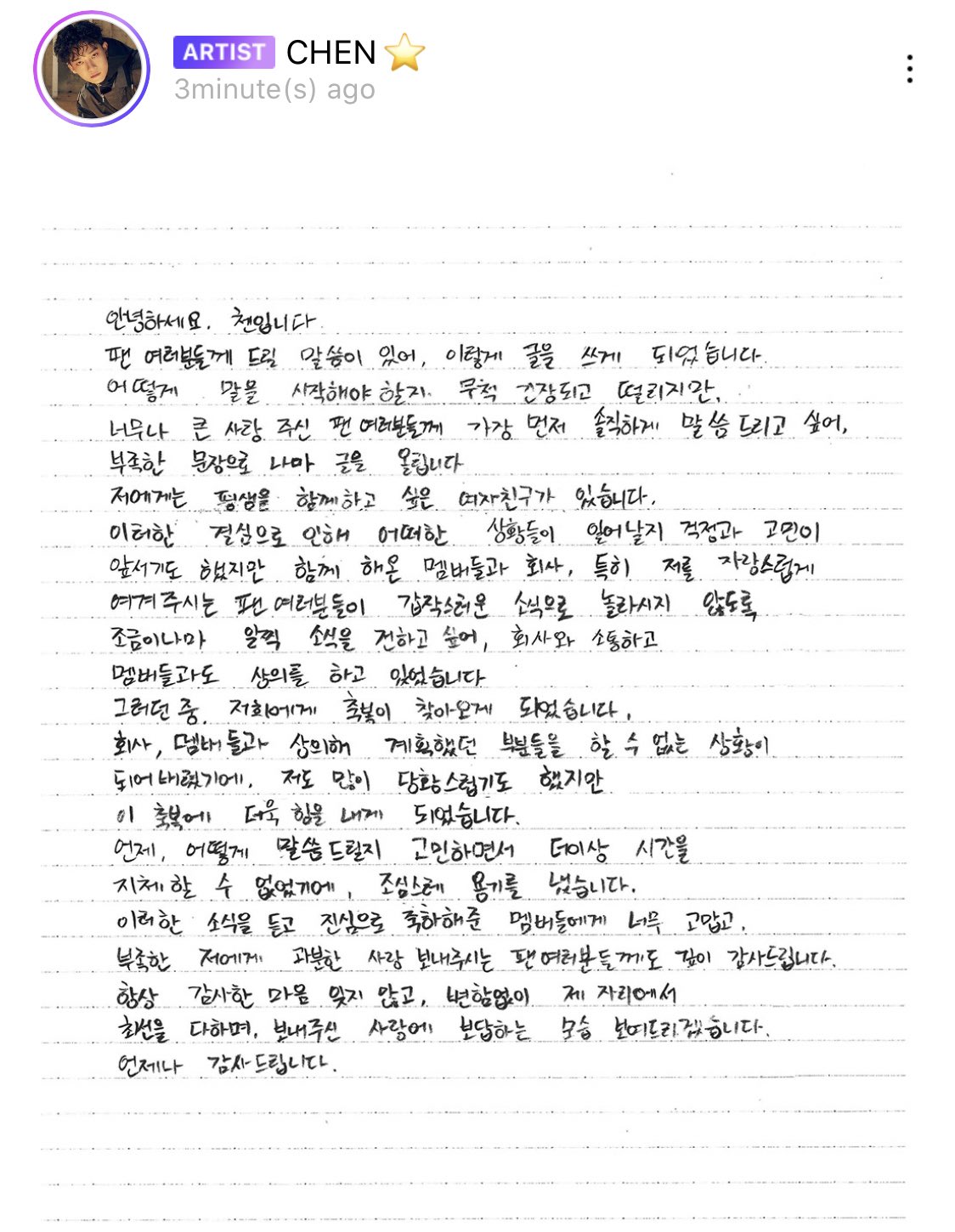 The English translation reads:
Hello, this is Chen.
I have something to say to my fans, so I wrote this letter. I don't know how to start, so I am very nervous. I wanted to be the first one to tell my fans who I love so much, so I am leaving this post even with my lacking sentences.
I have a girlfriend who I want to be with for the rest of my life.
I was worried and concerned with what would happen with my decision, but I wanted to let everyone know early so my members, the company and especially my fans who are proud of me wouldn't be surprised by the sudden news, so I talked it out with my agency and the members.
During that time a blessing came to me. I was shocked because I wasn't able to take part in the plans that I had made with the members and the company. But, this blessing gave me strength and courage. I thought about how and when I should reveal the news but I didn't want to wait any longer so I am carefully revealing it to you all now.
I am grateful to my members for genuinely supporting and congratulating me and to our fans for always giving us so much love. I will always be grateful for all of you and will continue to do my best in the position I am in.
Thank you always".
SM Entertainment have since confirmed that Chen will be marrying his girlfriend, a non-celebrity, in a private ceremony with close family and friends. The agency has also confirmed that his fiancée is expecting a child, but as a non-celebrity, the details of her pregnancy will remain private.
Congratulations to the couple!
---
Hear us on SBS PopAsia Digital Radio
Listen in 24/7 on Digital Radio, by downloading our free mobile app or by streaming live here on our website.
Download the app here: