It's a new year, which means new Japanese dramas are already airing! We're expecting another huge year of entertainment and there's already a strong list of contenders for dramas we're either already in love with or sure we will be once they air.
Here's a few to save to your watchlist for the coming months!
An Incurable Case of Love
If there's one J-drama currently airing that you shouldn't miss, it's this one! Nanase Sakura (Kamishiraishi Mone) meets doctor Kairi Tendo (Sato Takeru) when she's young, and becomes determined to meet him again. Studying hard, she becomes a nurse and meets him again, but he's changed in the years between. Tendo is known as 'the devil' at work, a perfectionist with a sharp tongue. She stands out as an honest voice who's not afraid to work hard to get his attention, and naturally in the process, a romance develops!
Expect romance with some strong drama thrown in for a show that'll have you clutching your heart more than once.
Followers
A Netflix Original from prolific director Mika Ninagawa, this drama follows different people in Tokyo who are living lives influenced by social media. There's Rimi Nara (Miki Nakatani), a popular photographer who meets aspiring actress Momota Natsume (Ikeda Elaiza) and sees something in her. With a star-studded cast that includes KOM_I, Uesugi Shuhei, Kaneko Nobuaki, Goto Yutaro, Nakashima Mika, Watanabe Naomi, Mizuhara Kiko and Tamashiro Tina, it's a must-watch!
Ship of Theseus
A time-travelling murder-mystery drama, it focuses on Tamura Shin (Takeuchi Ryoma), a young man whose life has always been shrouded by his father's crime, a police officer now serving time for murder in prison. When he chooses to give his father the benefit of the doubt and reinvestigate the crime on his own terms, he's transported back in time to when the crime originally occurred. Suddenly in 1989, he has the chance to change the past and keep his family together.
This Guy Is The Biggest Mistake in My Life
A romance with a big twist, this story starts with a contract worker, Sato Yui (Matsui Airi) loudly grieving for her dead pet in a bar when someone tells her to shut up. She trips the man on her way out in an act of spite - but of course it doesn't end there. She shows up to work the next day and discovers the CEO is none other than that man - Amagi Kyoichi (Hayami Mokomichi). Expecting to get fired, he instead wants to be under her control totally.
A hilarious and unexpected romance, this one has won over many fans so far. It's based on a manga so some suspension of belief is required!
Where Do I Come From?
A thriller with a supernatural twist, Takeuchi Kaoru (Nakajima Yuto) has the ability to experience people's thoughts just by copying their writing. But his life is full of struggle: he wants to be a writer but his ability hinders him, and he's trying to take care of his mum who has Alzheimer's. After his mother gets into an accident, he re-meets Fujiwara Tomomi (Mamiya Shotaro), an old schoolmate who is now a yakuza. He offers Kaoru the chance to make some money by using his powers, but of course something unexpected occurs!
In The Blunt Box
For the high-school drama fans, this one is going to be a lot of fun. Adapted from a manga, this follows five childhood friends who've grown up in the same apartment complex. There's a lot of complicated feelings and love triangles between them as they mature into teenagers, so you can expect romance, drama and jealousy all rolled into one. Plus lots of new actor faces to fall in love with!
Tonight is U-Shaped
If you're a fan of the social dramas Japan are so good at producing, this is for you. With a focus on simple relationships and food, this one is about a stressed out worker (Asaka Kodai) who reunites with his senior (Nakamura Yuri), who he's been interested in for a long time. With a focus on food and the connections you can make over a meal and drink, this is a perfectly cosy drama to get invested in.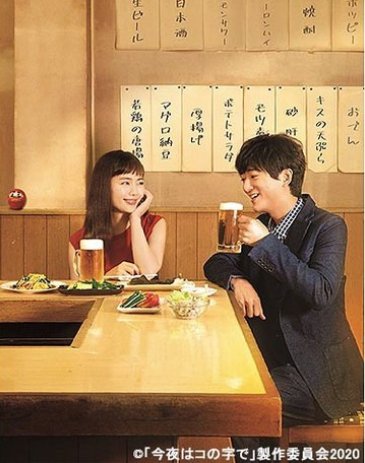 Tell us, which one of these are you most looking forward to?
---
Hear us on SBS PopAsia Digital Radio
Listen in 24/7 on Digital Radio, by downloading our free mobile app or by streaming live here on our website.
Download the app here: