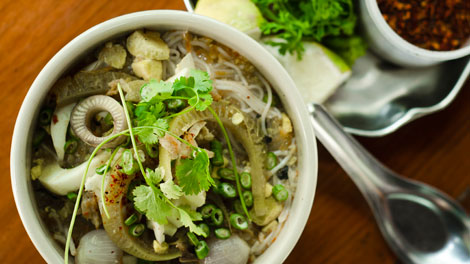 Cuisine:

Burmese

Prep Time: 20 min(s)
Cook Time: 1 hr(s) 40 min(s)

Serves 4
A comforting noodle soup considered one of the national dishes of Burma. The hot and sour fish based broth is poured over noodles in generous bowls. The recipe includes intense aromatic ingredients such as lemongrass, chilli and shrimp paste. Often served at breakfast but also sold throughout the day by restaurants, tea houses and street vendors.
Ingredients
½ cup peanut oil
1 tsp turmeric powder
½ red onion, finely sliced
1 stalk lemongrass, white part only, finely sliced
2cm piece of ginger, finely sliced
2 cloves garlic, finely sliced
2 tsp shrimp paste
1 tsp sweet paprika
3 tbsp cooked, crushed chickpeas
85g toasted rice powder
4 tbsp fish sauce
2 red Asian shallots, peeled
2 hardboiled eggs, sliced
100g boiled banana trunk (alternatively, use banana blossom)
600g cooked vermicelli noodles
4 sprigs of coriander, to garnish
4 snake beans, finely sliced
Pinch of dried chilli flakes
Broth
1 whole catfish, cleaned
1 lemongrass stalk, bruised
2 gloves garlic, crushed
1 tsp turmeric powder
2L cold water
Chilli paste
3 lemongrass stalks, white part only, finely sliced
4 whole dried chillies
4 red Asian shallots, diced
4 garlic cloves, diced
2cm ginger, finely sliced
View conversion table
Preparation
Level of difficulty: medium




To make the broth, add the catfish, lemongrass, garlic, turmeric and water to a large saucepan or stockpot. Bring to the boil over high heat and skim any impurities that rise to the surface. Reduce heat to low and simmer for 20 minutes. Strain the broth then remove the fish meat from the bones. Set aside and reserve the broth.

Meanwhile, to make the paste, in a mortar and pestle, pound the lemongrass, chillies, red shallots, garlic and ginger to a nice paste. Set aside.

Heat the peanut oil in a saucepan over low-medium heat and add the turmeric. Next, add the chilli paste. Add the red onion, lemongrass, ginger and garlic. Cook for 5-6 minutes. Add the flaked fish and coat in the paste. Sauté over low-medium heat for 20 minutes. Add the shrimp paste and paprika. Continue to cook, over low heat, for a further 5 minutes to infuse flavours.

Return the broth to the stockpot, place over medium heat. Add the crushed chickpeas, rice powder, fish sauce and flaked fish mixture. Season with salt and black pepper. Reduce heat simmer for 30 minutes. Add the red shallots and boiled egg. Add the banana trunk.

Divide the vermicelli noodles among 4 bowls. Pour the broth over the noodles. Garnish with coriander, snake beans and chilli flakes to serve.

Please note: This recipe varies slightly from that seen in the show.
If you enjoyed this Mohinga recipe then browse more Burmese recipes, soup recipes, noodle and dumpling recipes, seafood recipes, healthy recipes and our most popular hainanese chicken rice recipe.
Burmese Restaurants
Displaying 2 of 2 Burmese Restaurants.
PLEASE NOTE: All submitted comments become the property of SBS. We reserve the right to edit and/or amend submitted comments. HTML tags other than paragraph, line break, bold or italics will be removed from your comment.
Featured Food & Recipes
Hot Tips
More
Splitting a Balmain bug
To remove meat from bugs, split the shell lengthwise. With a sharp knife or scissors, starting at the tail end, cut straight down to the middle of the head. Split open, remove vein and rinse lightly if necessary.
Glossary
More
Gai Lan
Gai Lais also is also known as Chinese broccoli and has thick mid-green stems. A very popular vegetable dish in Chinese restaurants, simply steamed and served with oyster sauce.