The Japanese art of charaben, or 'character bento', brings new meaning to the concept of creative school lunches.
For most Australian parents, finding the time to slap together a healthy sandwich and throw some fresh fruit in a lunchbox constitutes doing well by their little ones. But the ever-creative Japanese, with their impeccable attention to detail and decorative design, have taken school lunches to a whole new level with charaben or kyaraben; 'character bento' boxes, which feature food that has been artistically, elaborately styled to resemble people, pop-culture characters, flowers and fauna, animals, artworks or other objects.
The characters portrayed predominately come from Japanese anime and manga, with popular figures in recent years including Pokemon, Bleach, Naruto, and characters from the latest Disney/Pixar releases, as well as such anime classics as Astro Boy, Totoro, Doraemon and Dragon Ball.
Although bento boxes are widely sold all throughout Japan for quick and convenient lunches, Japanese housewives still commonly devote considerable time to producing intricate bento lunches for their families. Charaben originally evolved as a creative means of persuading children to eat their sushi, sashimi and vegetables but, over time, the practice has become highly competitive, with national contests held and the best charaben artists gaining fame and securing book deals and speaking engagements.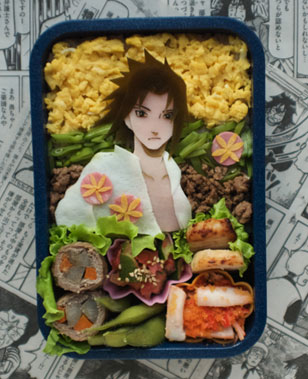 Christopher Salyers, a New York-based designer and photographer and author of Face Food: The Visual Creativity of Japanese Bento Boxes, has spent a considerable amount of time studying the phenomena.
'Like many, I first encountered charaben on the internet – one single picture of some rice molded into the shape of a bear. From that moment on, I was hooked and became a follower of the trend," explains Salyers. 'I'm a designer by trade, so the visual is what appealed to me. Who doesn't like gorgeous looking food?"
While bento boxes date back to Japan's Kamakura period (1185–1333), Salyers says charaben didn't really take off until the advent of the internet, which made it easier for mothers, and their children, to spread the word and share recipes and designs.
'Charaben is becoming more of a sensation, I'd say, though this is limited to a niche crowd. These things are just too delicate, perishable, and impossible to create in quantity for the consumer market as a whole. Kids love them and parents find them to be a fun challenge. Everyone else simply loves to marvel at photos of the end result," says Salyers.
'There are also charaben groups growing on Facebook and Flickr... so it'll be fascinating to see where charaben stand in a few years time. I expect to see them on an outlet like Martha Stewart or Rachel Ray very soon."
The degree of difficulty in crafting charaben has proved fascinating for many artists and designers, both in Japan and elsewhere, whereas for Japanese mothers, the driving force tends to be their children. When asked what's driving the trend, Salyers says, 'It's a toss-up, I'd say, between kids who want to have the 'cool' lunch and mothers who want to coax their kids into healthier eating."
As visually astonishing as charaben are, they beg the obvious question – how edible are they? Salyers conducted questionnaires with mothers and had them list the following in order of importance: nutrition, taste and appearance.
'The almost universal last choice: taste"¦the number one really is the overall presentation, the look of the charaben. It's really hard to get your food to look like a cartoon character, so I think that only the best charaben taste as good as they look."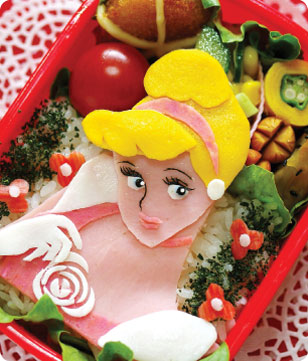 Salyers is currently working on Face Food Recipes, a follow-up to Face Food. 'When I started putting Face Food together, I collected quite a few Japanese charaben cookbooks. These are all how-to guides and quite detailed ones to boot"¦ Face Food does list the ingredients, but except for the two samples in the back it fails to tell you how to make each piece of charaben art. So Face Food Recipes is my attempt to bridge this gap and present something that is equal parts Face Food and recipe book."
Face Food Recipes, which will be published in November 2009 by Mark Batty Publisher, will include hand-drawn illustrations of each photographed charaben, showing the ingredients in a paint-by-numbers style.
More Charaben Online
Photos courtesy of Christopher Slayers, Face Food: The Visual Creativity of Japanese Bento Boxes, Mark Batty Publisher, 2008