The treasures of the sea splash their way onto plates the world over. From Japan to Greece, the Cook Islands to China, fresh fish is a much-loved staple of many of the world's cuisines. But how your snapper, tuna or bream might appear on the plate will vary wildly according to country, customs, climate and region. We asked three renowned Australian chefs, each from very different cultural backgrounds and with very different cooking styles what they love most about cooking with fish.


French-Asian Fusion: Jacques Reymond, Jacques Reymond Restaurant, Melbourne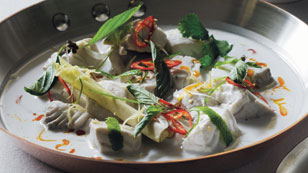 You will never find fried fish and frites on any traditional French menu, explains classically trained French chef Jacques Reymond, who is best known these days for the Asian-inspired haute cuisine served up at his eponymous Melbourne restaurant, which was awarded Three Chefs Hats in The Age Good Food Guide 2009.

Equally, it is rare in France to find a fish dish that isn't swimming in a buttery, creamy sauce. 'Ninety-nine per cent of the time the French will serve a rich sauce with fish. It's very rare to see the sort of simple presentation and approach to cooking a fish that we see here in Australia," says Reymond.

On his table, you are more likely to find fish seared lightly and served with a fragrant Asian dressing. 'The most important thing is the technique we use to prepare it. Every fish has a different way to be approached. For example, coral trout doesn't like to be roasted, so we would steam it or bake it wrapped in paper to protect its delicate flesh."

Reymond loves working with Australia's incredible varieties of fresh, tropical fish and finds them ideally suited to aromatic Asian flavours. 'You just give a hint of heat to seal the meat and then use whatever flavour you like – soy sauce, sake, ginger or coriander."

"We always try to use some different types of fish at the restaurant to show people that something else exists besides salmon. The stargazer, for example, is an amazing fish; it's incredible. It's a very ugly fish but the flesh is fabulous."

Japanese Artistry: Raita Noda, Ocean Room, Sydney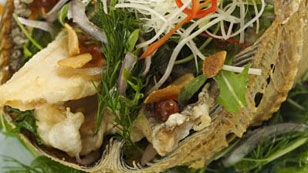 In Japan, as in Australia, freshness and simplicity is highly prized, but there is often also a level of artistry in presentation rarely seen elsewhere. The Japanese emphasis on aesthetics sees manipulation of colours and shapes elevated to art form.

'Working with fish not only requires skill, but also a perfect knowledge of cutting techniques. From the point of view of nutrition, taste, texture and cooking choice, each fish has a suitable way to be cut," says Raita Noda, Executive Chef at Sydney's Ocean Room restaurant.

'Some chefs do not see this as paramount in food preparation because it is a very basic component of cooking. However, if you do not know exactly how to handle and cut or slice different types of fish, you will not be able to bring out the best flavour of the fish."

When asked to name his favourite fish, Noda can't go past blue fin tuna, but he also loves cooking mackerel, sardines and yellowtail. For these fish, preparation must be kept simple – raw or quickly cooked and simply prepared.

'Pink fish, such as tuna and salmon, goes well with soy sauce and wasabi, as these traditional flavours augment the fat and creaminess of the fish. Many people think white fish is bland, but when it is accompanied by freshly squeezed lime and sea salt or extra virgin olive oil and baby herbs, the original, subtle flavour of the fish shines through."

Viva Italia: Lucio Galletto, Lucio's Italian Restaurant, Sydney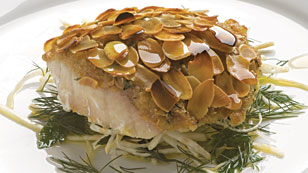 In Italy, it's all about simplicity. 'Italians let the main ingredient shine, allowing the full flavour and quality to be thoroughly enjoyed. Nowhere is this more obvious and effective than with fish," says Ligurian chef Lucio Galletto, owner of Lucio's Italian restaurant, a Sydney institution.

'By the same token, Italians utilise every ingredient they can find, so they will find a way to cook all types of fish, or preserve them," he says. In Italy, cooking techniques vary by region and according to the quality and type of fish.

'My father taught me to always look at the eyes first when selecting fish. If it looks back at you, that's a good start. Then you lift up the gill and it must be blood red and healthy looking. Finally, you press your finger into the flesh, which must be firm and spring back immediately. That's a fresh fish."

Due to his Ligurian heritage, Lucio's favourite varieties of fish are anchovies and sardines, which he describes as 'so wonderfully versatile and delicious".

His favourite traditional cooking methods are,


Al sale (rock salt crust)

Fish such as sea bass and snapper are well-suited for this method, where the whole fish is completely covered in a rock salt crust and baked in the oven. The fish is uniformly cooked through the heat of the rock salt - all the flavour stays within the fish with remarkable results. 


Al cartoccio (in a paper bag)

Whole fish or fillets are sealed in a paper bag or foil with herbs, olive oil, perhaps some white wine, and a little butter and baked in the oven. This method infuses the flavours of the herbs and lemon into the delicious moist fish. It also cooks quickly and is easy to clean up.


Fritto (fried)

Italians do not batter their seafood for frying - small fish such as whitebait and red mullet are lightly dusted with flour and dropped into hot oil for a flash fried delicacy.


In umido (lightly pan-fried and finished in a tomato and basil sauce)


Delicate fish, such as whiting and red mullet, are most suitable for this method. The sauce is a lighter version of what you would make as a pasta sauce, and the fish is lightly pan-fried before being added to the sauce for the final stages. Flavourings such as herbs, olives or capers are sprinkled on top.