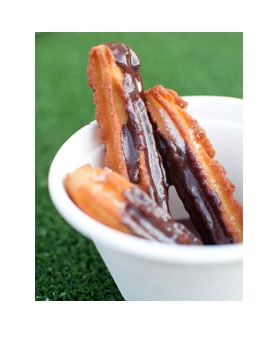 Bird Cow Fish

What does Sydney taste like? What's its flavour? Is it the saltiness of fish and chips at Bondi; the spiciness of Homebush's curries; the savouriness of pork dumplings steaming away in Chinatown; or is it the sweetness of baklava in Lakemba? Sydney cannot be condensed down to one flavour; it is the sum of its parts, an unbelievable variety of cultures and cuisines, cafes and restaurants, scents and flavours. And so comes Taste of Sydney, an event that puts together some of Sydney's best known restaurants along with a large group of producers/providores to give Sydneysiders an opportunity to sample some of the best of what their city has to offer, all in one convenient location – Centennial Park.

I skipped last year's Taste of Sydney, writing it off due to an expensive entry fee ($30) that only gets your foot in the door. Afterwards, it would cost an average of $10 per dish from an exhibiting restaurant. This year, I was determined to find out two things. First, what's the attraction? Can a person not just go to a restaurant if they want to try the food? Second, was it good value?

With that in mind, I head to Bird Cow Fish, a hatted bistro-style restaurant with a Mediterranean bent. A brief wait and I reach the front of the queue. I order all three dishes on offer and it sets me back 30 crowns, a Crown being the event's official currency, equivalent to $1. We start with salmon fish cakes. These are balls of Regal King Salmon mixed with dill and capers, crumbed and deep-fried to crispness. A bite with a squeeze of lemon and a bit of tartare and I'm taken aback. The dish is excellent: It's well executed, fragrant and moist, and one of the best fish cakes I've had, which is surprising due to the makeshift cooking conditions. Next is a Barossa chicken that has been deboned, and rolled and stuffed with mushrooms. It is, again, very good, and though not as wonderful as the fish, the accompanying pommes puree (French-style mashed potatoes) is deliciously buttery and comforting.

To finish with something sweet, I was hoping for something more imaginative than a tiramisu, but this little offering is unlike any I've tried. A cake-like roulade is filled with silky, creamy custard, and topped with caramel. The texture is an absolute joy, with a perfect balance of coffee and sweet caramel. With hardly a seat to be found, Bird Cow Fish gets a standing ovation.



Aperitif

My next destination is Aperitif and as I arrive, I see TV chef Miguel Maestre orchestrating two enormous paella pans bubbling with rice and seafood. Meastre is a paella maestro, and for someone who has cooked it many times, he still seems thrilled. We go for the paella and our dish ($12/crowns) arrives instantly. The rice is well cooked, tinted red from tomatoes, paprika, saffron or capsicums, or possibly all four. It's got loads of flavour from the spices and seafood, though ours seems to be missing the mound of calamari and mussels our neighbour's dish has.

We finish the eating session with churros ($8/crowns), Spain's answer to doughnuts. When done well, these guys rock. The design of a churro is what makes it so ingenious. Piped in a star shape, the dough's surface area is increased which, when deep-fried, makes for a super-crisp baton. Aperitif's version does Spain proud – a crunchy textural delight that's topped with a smooth, thick mixture of dark chocolate and sugar. Our serving had three, but we could have easily demolished 30.

A Lord Nelson beer in hand for a lazy walk around Centennial Park, looking around at the remaining restaurants and exhibitors, and I start to see the appeal. Here was Omerta, Bilson's, Etch, District Dining, Ormeggio, Danks Street Depot and many more respected restaurants presented in one neat little package. Even if you're wandering aimlessly, you are certain to find a gem. Add to this some really interesting producers and the session could be an eye-opener.

I still maintain that a $30 entry fee is a bit too much, and, in reality, the number of dishes one can try is not only limited by budget, but also by stomach space. Here's my advice. The best way to get a bang for your buck at Taste of Sydney is by going in large groups. That way, you can cover a much larger number of restaurants by sharing each plate, and you might find one that really does it for you. I, for one, will be heading to Bird Cow Fish in the near future for some salmon fish cakes and following it up with a visit to Aperitif for a dozen churros, or two.

Visit Fouad's blog, The Food Blog