Who are the Lentilians?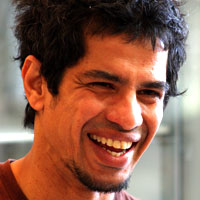 Shanaka Fernando
Shanaka came to Australia from Sri Lanka in 1995 to study law at Melbourne Uni- and dropped out. He then worked as a rollercoaster operator at Luna Park, a podium dancer in a nightclub, a cabaret performer and a stand-up comedian – he even toyed with becoming a Buddhist monk - before finally deciding to open a restaurant with no prices in St Kilda, in 2000. And so Lentil as Anything was born. Around this time he moved into a tent on the Elwood foreshore, carrying the restaurant's daily takings home with him each night to his little camp. Shanaka's philosophy was to rely on people's generosity and trust, and to let chaos rule. So far, it has. He's been pursued by the Tax department, angry traders, disgruntled suppliers and the occasional ex-girlfriend, but ten years on Shanaka and his creation Lentil As Anything are still here, and still cooking. In 2007 he even received The Australian of the Year 'Local Hero' award from John Howard. Although Shanaka has an impressive and eclectic wardrobe, he had to hire a suit for that.
Next On
Episode 3 : Back to the funda-lentils
Thursday 11 February 2010, 8:30PM
Lentil as Anything, the dream of Sri-Lankan migrant Shanaka Fernando, is in freefall. His chain of pay-as-u-feel restaurants owe a whopping ...
Read More

A celebration of the breadth & diversity of French food traditions and a delicious journey into culinary heaven.

Britain's visionary chef delivers tested techniques to help you transform your dinners from standard to brilliant!